Copping a Feel: Viewing the Policing of #OWS Protests through Women's Bodies
Look at this picture and think about what you see: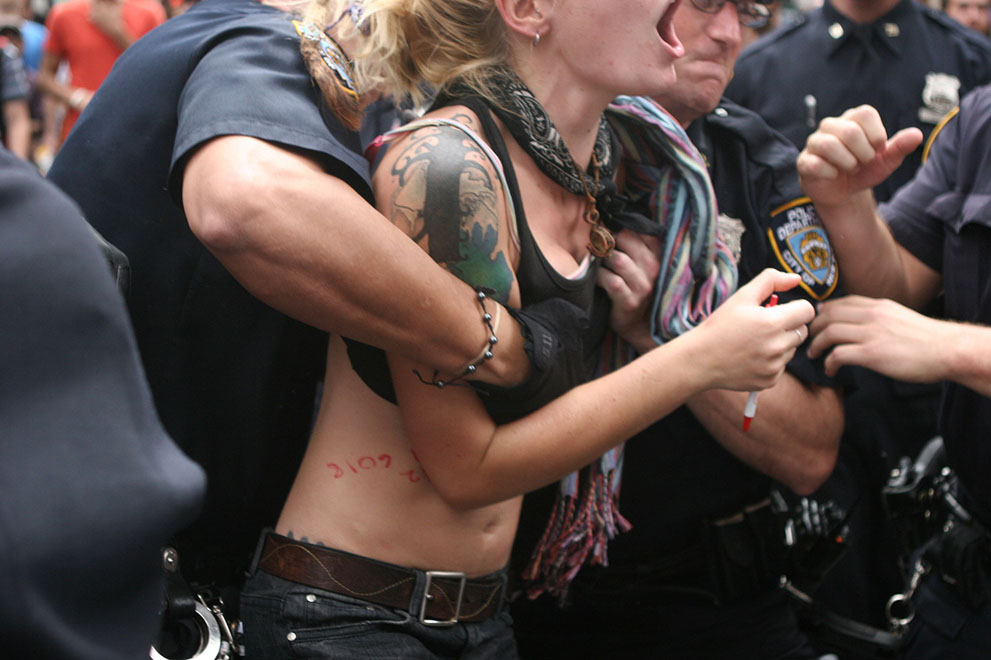 Do you just see gender or do you also see gendered oppression? Look closely at where the cops have placed their hands.
In a recent article, Graeber writes about the police using sexual assault as a tactic to humiliate female protesters and enrage onlookers. He writes, "Why target women in particular? No doubt it's partly simply the logic of the bully, to brutalize those you think are weak, and more easily traumatized. But another reason is, almost certainly, the hope of provoking violent reactions on the part of male protestors." He goes on to suggest that this tactic is an outgrowth of the military psychology prevalent in policing, where women's bodies are used to lure valorous men into more danger.
I agree with this explanation, but would like to explore it further using a few visual examples. Here, I contend that these acts might not only be the effect of militarism, but also indicative of a strategy to suppress protest through women's bodies. The critical difference being that instead of seeking to activate men into playing out contrived social roles, these acts of State violence seek to intimidate women and discourage them from joining in the first place.  Just to be clear, I am not making an argument that men or women are either more or less at risk of police violence.  I am saying that the social meaning of State violence is inscribed differently on their bodies at the point of contact with police.
The targeting of women's bodies in protest is not new, but it remains a difficult pattern to recognize in the US. This is mainly due to the shame involved in reporting such an act and the difficulty of proving that one's gender was the target of the attack. For example, a woman claiming that a cop is purposefully grabbing or poking her breasts is easy to dismiss when the scene appears chaotically out of control.  How can we challenge this? Like racism, gendered oppression does not have to be intentional to have important consequences.
While many Occupy historians are debating the importance of certain events leading up to the widespread diffusion of occupy encampments, no event is singled out more often than the violence perpetrated against Chelsea Elliott and Jeanne Mansfield on Sept 24th, 2011 by Officer Anthony Bologna. Captured on video and slow-motioned for your riot-porn pleasure, this application of State power to the faces of young white women was the spark that ignited a nation.
 Photo of the aftermath
Video Clip of the NYPD coordinating a terrific act of violence against women

On November 17th, a similar abuse of State power directed at a woman pinned to the police line illustrates how the police don't enforce rules and laws for safety, but rather attempt to punish dissenters knowing that no charges will follow. Note that this woman appears to be the only one speaking in this photo.
Photo of Elizabeth Nichols being pepper sprayed during action with Occupy Portland
She tells the story here:
Some argue that because the police have the power to resort to 'legitimate violence,' they tend to use it arbitrarily.  But, are these instances really random? In both cases the women are forced into a confined space to prevent them from moving.  While the crowd is kettled, the police remain relatively still. And when the blasts of pepper spray come, it is not from those under immediate threat of violence from the protesters. These are not examples of out of control protesters, but rather in-control police who seek the power to discipline and punish women's bodies openly for the purpose of dissuading us from not just participating, but leading, speaking, and pushing forward. 
Curiously, both of these now iconic police assaults failed to produce the flashpoints for male rescue that Graeber wrote about. This does not mean he is wrong, but rather that if the police are doing it to inflame men, then the cops misunderstand the crowd psychology of OWS. OWS is primarily a movement of spectators and not primary actors.  While few will push up against a police line, thousands will gladly watch and press record on their camera as if their passivity counts for much.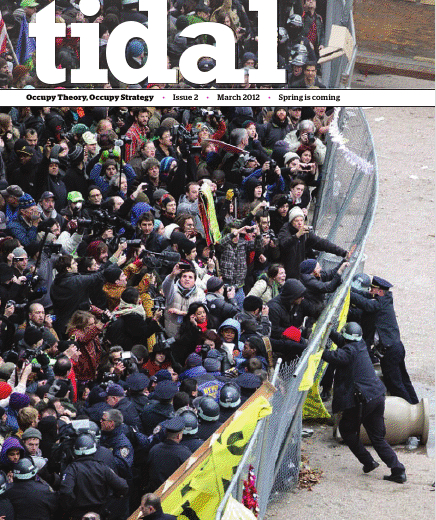 Fence surrounding an open city block near Duarte Square on December 17, 2011
No image proves my point more than this, where three cops triumphantly hold back a sea of humanity.  If you look closer though, more people are watching the action than applying pressure to fence, which is at that moment synonymous with the State.  In fact, there is a noticeable gap between actors and spectators, who are looking to get a decent shot of the action. The gap is indicative of American politics, where representations of the political struggle matter more than direct confrontation with the problem.
Importantly though, when talking to women occupiers about crucial events that shaped our involvement in the movement, we often refer to the incidents of women being pepper sprayed.  We personalize the experience of those pepper sprayed as  we lived through it in images. Why? Just like the fence comes to symbolize State power-and perhaps alongside it the powerlessness of the spectacle and spectators-the pictures of tortured women left to scream in pain and isolation resonates with our current disaffected politics of gender and patriarchy.
Critically, we also imagine these women as heroes fighting the class war on the front lines. As they get assaulted by the police who've surrounded them, the pixels give way to an old truth: while we are women marching to fight injustice, we still make for great soft targets when we are isolated. These videos show that just like rapists, the cops will try to get us to be still before they attack. By injuring us using pepper spray, it becomes clear that the police do not want to arrest, they seek a release. The police say they do not arrest those they spray because it takes "man power off the streets," but what about vindication for those who are unjustly injured?  While we can not prevent the cops from whipping it out whenever they feel like it, we can document their tactics and support each others' testimonies.
The cops must feel a sense of political and occupational impotence when 'protecting' the imagined public from the real public engaged in non-violent civil disobedience. We march in the street (a fairly minor transgression) and it is met with hundreds of cops standing around with clubs, spray, and cuffs in hand. We sleep in a park and they must spend their days off watching us, protecting us from ourselves, and waiting. The police presence at non-violent protests is predicated upon the idea that we must be criminals because we choose to march together rather than go shopping alone. They are ready for 'something' to happen and when nothing does, they must provoke it. They use our bodies as the catalyst. Because of our precarious position in society, women's bodies are more fit for the task of creating chaos-like situations in protests than male bodies.  Because there are so many more social meanings mapped onto women's bodies as it pertains to violence and moral order, we will continue to be prosecuted in the streets because the cops know the charges will not stick.
With that in mind, I want reiterate an important lesson in feminism I learned from Moshtrogen (a women's collective in Boston in early 2000s): we must continue to look for patterns in our stories and experiences, so that we can share useful knowledge, build alliances, and fight back together.
Now, go tell 2 friends to tell 2 friends never to trust the cops. ever.
Short URL for this post: http://tmblr.co/ZghGlwLgAVtd